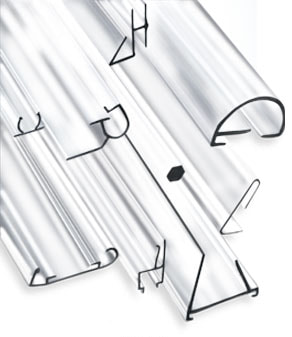 Custom plastic profiles are routinely created by designers and engineers, at Petro Packaging Co Inc.. Extruded shapes are manufactured to take the place of other existing profiles or to meet a specific customer need in projects such as Point of Purchase displays, light fixtures, medal devices, or packaging components.
Specializing in PETG Copolymer and TENITE™ CAB (Cellulose Acetate Butyrate) materials, Petro Packaging Company Inc. prides itself in manufacturing the finest Custom plastic profiles in the industry. Our manufacturing capabilities range from the simplest "U" shaped profiles to 6″ wide complex configurations.
At Petro Packaging we focus on our customers' needs by offering competitive pricing, short lead time capabilities, and on-time delivery. Our knowledgeable sales representatives and engineering staff members will assist in selecting the optimum shape and size for your application. With the help of our in-house tool and die makers and experienced production personnel, we guarantee a finished product that will meet your most critical requirements.
Challenge us with your next custom extruded profile. Our goal is your ultimate satisfaction!
Materials Offered in Custom Extrusions:
PETG Copolymer
TENITE™ CAB
PETG Copolymer and TENITE™ CAB are:
 Exceptionally clear
 Impact resistant
 Easily fabricated
 Bondable
Special Formulations Available:
 Custom colors
 UV Grades prevent degradation from outdoor exposure*
 FDA Grades for use with food or drug applications*
*Spec Sheets available upon request
Value Added Services:
Drilling, Notching, Punching, Slitting, Labeling, Taping.
Custom Profiles are Ideal for Point-Of- Purchase Displays:
 Ticket channels
 Shelf clips
 Sign holders
 Edge moldings
 Slatwall accessories
 Easels
 Joiners